With plenty of blogs out there, opportunities to earn online seems to be endless. And that makes some popular websites like Nuffnang.com to be vulnerable for phishing and hacking attacks. Nuffnang is a blog advertising community that shows daily ads in not less than 260,000 blogs. With lots of bloggers signing up everyday, the number of blogs in the blog database continue to increase. This leads to exploitation of contact details and right now, spam emails have been sent out to some Nuffnang bloggers.
The fake email reads:
Since it is talking about the new banner or ad codes, it is actually encouraging the email recipients to click on the links and view the codes for their blogs. But upon clicking the Nuffnang link on the email, it redirects to Nuffnung.com (Nuffnang VS Nuffnung):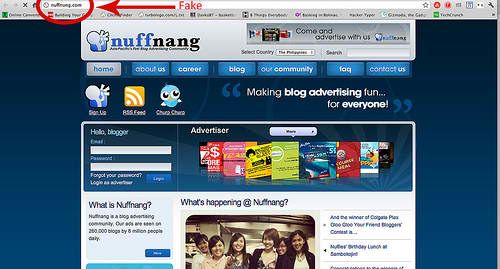 IT experts are working on this issue to completely stop the phishing attack and block nuffnung.com.
To further help Nuffnang, you can also do the following:
1. Open Mozilla Firefox browser and go to http://nuffnung.com
2. Click the "Help" Menu then click "Report Web Forgery" and fill in the form. Say something like "This site is a fake of http://nuffnang.com.ph and tries to harvest user passwords."
3. Open Internet Explorer browser and go to http://nuffnung.com
4. On the "Safety" drop-down menue, click "Smartscreen Filter" then click "Report Unsafe Website".
5. Go to http://www.google.com/safebrowsing/report_phish/?tpl=googlechrome&url= in any browser and report http://nuffnung.com